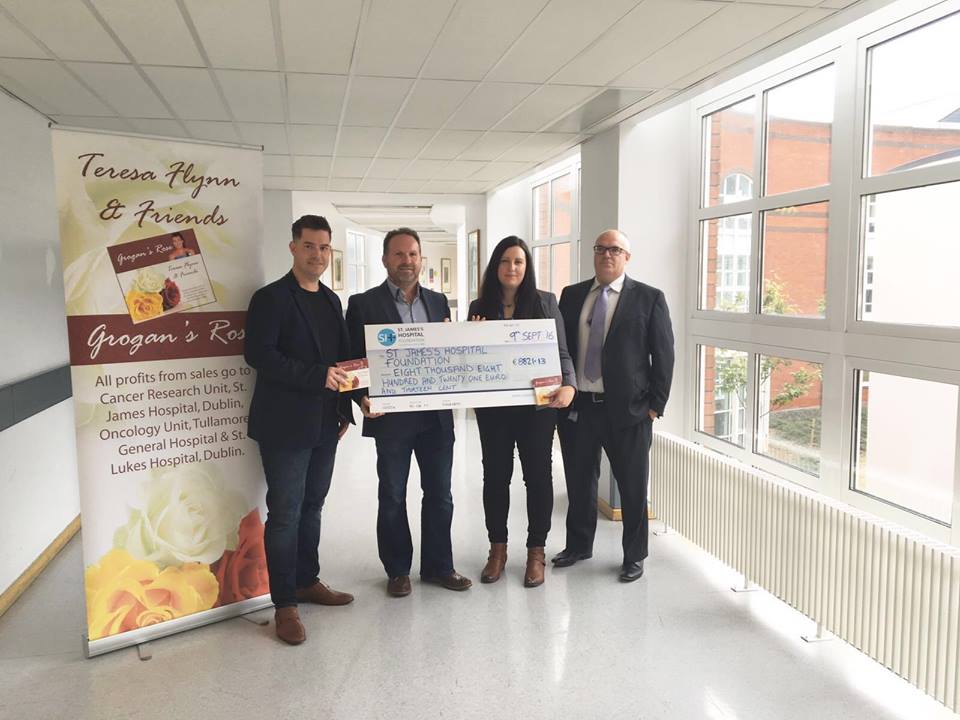 Simon Casey and Joe Flynn pictured presenting a cheque from the Grogan's Rose album fund to Laura Saunders and Dr. Finbar McCarthy from St. James Hospital
At the beginning of 2011, Teresa Flynn received the unexpected, devastating news that she was terminally ill and her time was running out. Instead of surrendering to the unfortunate blow that she had been dealt, she became even more determined to fulfil her lifelong dream of recording an album.
Teresa was greatly appreciative of the medical professionals who guided and supported her through the toughest moments of her illness. Her wish was to raise much needed funds, through her album sales, so that they could continue to provide the same level of care to others in a similar situation.
The journey of the Grogan's Rose album began in early 2011. The community came together to run a hugely successful benefit night that helped with the making of the album. Teresa enlisted the help of her family and friends that she had sang and played music with throughout her life. They worked tirelessly alongside her to perfect vocal and musical arrangements and produce a beautiful collection of songs that are now her treasured legacy.
Every song on the Grogan's Rose album brings to mind a special story and fun memories of moments in Teresa's life shared by all who had the pleasure of knowing her.
In September 2012, the Grogan's Rose album was successfully launched. It coincided with the rapid deterioration of Teresa's health and she sadly passed away only a few days later. Long after Teresa's passing, her album sales continued.
(Simon Casey and Joe Flynn pictured presenting a cheque from the Grogan's Rose album fund to Tullamore Oncology Comfort Fund with staff members Emma O'Sullivan, Liz Meade, Teresanne Lowbridge and Sandra Craig.)

It is with great pride and gratitude that we were able to fulfil her wish and hand over the proceeds of the Grogan's Rose album sales to Teresa's chosen charities, St. James Hospital, St. Luke's Hospital and Tullamore Hospital Oncology Unit. Each charity received a fantastic donation of €8,821.13 from the final album fund of €26,463.39.
To the community of Ballycumber, the surrounding communities in Offaly, Westmeath and beyond, the businesses who donated so generously, friends and musicians who gave of their time and skills, all who purchased the album and supported the promotion of it, thank you sincerely for making Teresa's mission such a huge success.
The making of the album and contribution that it would eventually make to her chosen charities gave Teresa the strength to bravely carry on and see her album through to completion. The support that she received from her community and wide circle of friends gave her confidence to face her lowest moments and for that she was always grateful.
Good friends are hard to find, even harder to lose and impossible to forget.
Simon Casey and Joe Flynn pictured presenting a cheque from the Grogan's Rose album fund to Yvonne Boland from friends of St. Luke's Hospital