At the beginning of 2011, Teresa Flynn received the unexpected, devastating news that she was terminally ill and her time was running out. Instead of surrendering to the unfortunate blow that she had been dealt, she became even more determined to fulfil her lifelong dream of recording an album.
Teresa was greatly appreciative of the medical professionals who guided and supported her through the toughest moments of her illness. Her wish was to raise much needed funds, through her album sales, so that they could continue to provide the same level of care to others in a similar situation.
The journey of the Grogan's Rose album began in early 2011. The community came together to run a hugely successful benefit night that helped with the making of the album. Teresa enlisted the help of her family and friends that she had sang and played music with throughout her life. They worked tirelessly alongside her to perfect vocal and musical arrangements and produce a beautiful collection of songs that are now her treasured legacy.
Every song on the Grogan's Rose album brings to mind a special story and fun memories of moments in Teresa's life shared by all who had the pleasure of knowing her.
In September 2012, the Grogan's Rose album was successfully launched. It coincided with the rapid deterioration of Teresa's health and she sadly passed away only a few days later. Long after Teresa's passing, her album sales continued.
This is a selection of tributes about Teresa, after her passing.
Daily Mirror.
Offaly Independent.
RTE1
Wednesday morning the John Murray show on RTE1 payed their respect to Teresa on her passing. A lot of us did not hear it. so here is a link to it. When you go onto the page, click the listen back button, and go to 50 minutes. Click Here
They also posted the following on the John Murray page on the RTE Website.
Sadly, we have just heard the news that one of our guests, Teresa Flynn, who was with us on the show last March, passed away this morning from a rare form of cancer. We offer our sincere condolences to all her family & friends. To remember Teresa, we play the song she sang with her friend Simon Casey, 'Feet of a Dancer', a song from their CD 'Grogan's Rose' launched at the weekend for cancer research.
Tullamore Tribune 11th October 2012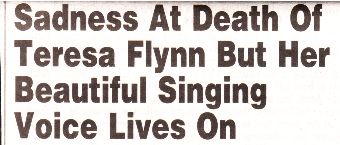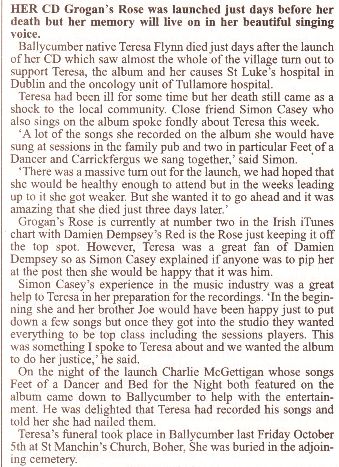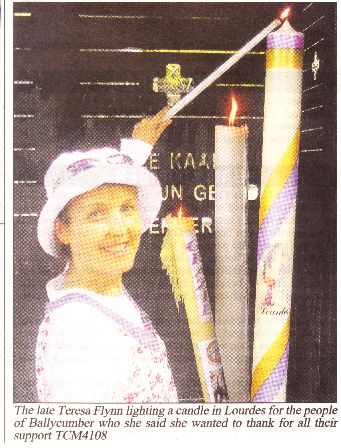 Ballycumber Notes, Tullamore Tribune 11th October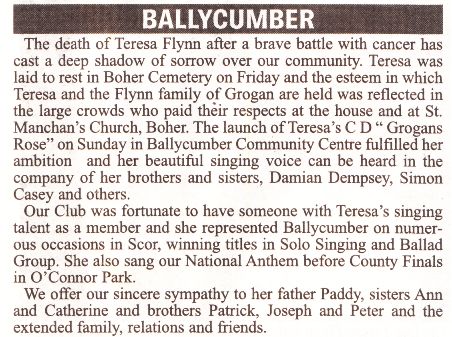 Village Voice, Ballycumber GAA Notes.